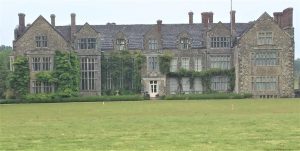 Parham House, south of Pulborough in West Sussex, dates from Elizabethan times and lies in an estate of nearly 900 acres, with extensive gardens and parkland. Even on a cloudy, and latterly wet, day, the house and grounds  afforded the most lovely outlook towards the South Downs. This magnificent house has only been owned by three families – the Palmers, who commissioned its construction in 1577, the Bysshopps and their descendants for more than 300 years from 1601 to 1922  and now the descendants of Clive and Alicia Pearson, who restored the house and added to its collections. The foundation stone was laid by the two-year-old Thomas Palmer, who later served with Sir Francis Drake and was knighted after the taking of Cadiz.
We began our visit with a guided tour of the house. In contrast to some other houses of the period, the immediate impression was of the lightness of the rooms. Many of the principal rooms face south and light oak was used in the panelling.  Throughout the house there is a wealth of C16th and C17th portraits, many of them exquisitely executed, as well as a collection of beautiful examples of embroidery from the same period and later. From the Great Hall to the Long Gallery, the third longest in a pivate house in England, each room held treasures.
After lunch at the house, there was time to look round the lovely gardens, albeit with umbrellas up. The four acre walled garden, with flower borders, vegetables, herbs and an orchard, held many delights and cricket lovers were pleased to see the cricket ground, where a Parham club has played since 1898.
From Parham we went on towards the coast for a short visit to the English Martyrs Catholic Church at Goring- by – Sea. Seemingly wholly unremarkable from outside – as our guide said, it could be mistaken for a large scout hut – inside it contains an astonishingly faithful 2/3 scale replica of Michaelangelo's ceiling of the Sistine Chapel in Rome. It is the work of Gary Bevans, a parishioner who had the idea, after a pilgrimage to Rome.
He painted the ceiling over five and a half years between 1987 and 1993. His success led to his being commissioned to paint further works in the church, from the marble effects on the walls, to a Last Supper (after Leonardo) and an icon on the lectern. By sharp contrast with these works, the church also contains much modern abstract stained glass, which some felt were the most appealing parts of the decoration.
Overall, the church provoked mixed views from really wonderful to unbelievably kitsch. However, all of us could appreciate the skill that had gone into the work and felt our visit to this extraordinary church was well worthwhile.
More photos from the visit can be seen in the photo gallery here.