Young Arts has been renamed Arts Volunteers. We fundraise and give grants to art projects, especially, but now not exclusively, those for children and young people. It is now more important than ever that with cuts and changes to the curriculum and the difficulties brought about this year by Covid 19 that the arts are supported so that they can continue. The Arts Volunteers support a wide range of projects.
Our Support to Stepping Stones School
Once again last February 2020 we were able to donate a cheque for £1,000 to Stepping Stones. The money was raised at our annual Bridge Drive and from the Patricia Fay Fund of the Arts Society. The money was used to support the art department in its projects with willow work, mosaic work, buying specialist large canvasses and framing pictures.
In February Stepping Stones and other local schools were able to display some of their work at Haslemere Museum and more of Stepping Stones art work can be seen at the Cookie Bar in Hindhead.
Stepping Stones is an independent special educational needs school with charitable status which provides education and care for 95 young people aged between 7 to 19 years.  Some suffer with ADHD, autism, cerebral palsy and other learning disabilities.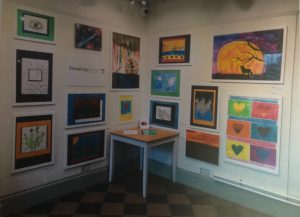 Art at Stepping Stones is a way that many of the students can express themselves using different media and helps them to develop confidence and self esteem. The children are encouraged draw, to use colour and blend and use different types of paint. They experiment with collage and enjoy working with clay.
2020 has been a difficult year for us all but the staff and children at Stepping Stones have continued to develop their art work. Next year, Covid permitting, they plan to work at 3D paper sculptures and plan a visit to Watts Gallery in Compton.
Stepping Stones is supporting children who have previously had difficulty accessing education and we are delighted to continue to support their development.
Hindhead School of Music.
In September 2020 we were able to donate £600 to the Hindhead School of Music. They have continued to remain open throughout lockdown. Sadly, some pupils felt unable to continue their lessons although many alterations were made to ensure safety. Some teachers taught from behind perspex screens and some students continued their lessons on line. The Hindhead School of Music used their grant to carry out some Covid safety alterations and to fund additional lessons for some pupils approaching examinations. We feel passionately that Hindhead School of Music and its expertise should receive all the support that we can offer to it.