A day of low cloud and drizzle did not deter 53 members from enjoying our outing to Highclere Castle, near Newbury, and Sandham Memorial Chapel.
More photos from the visit can be seen here though outside only as no interior photography is allowed at either venue.
Well-known from the TV series Downton Abbey, but actually home to the Earl of Carnarvon, there was much to enjoy at Highclere. There has been a house here since mediaeval times but the present architecture in mellow Bath stone bears many similarities to the Houses of Parliament – not surprising as both were the work of Sir Charles Barry, who re-modelled Highclere from 1839. Internally, we admired the great hall, library, sitting rooms, dining room and bedrooms, many familiar from the TV series (and with some photos of the filming) and the many family portraits, ceramics and other art. Although Highclere is occupied by the 8th Earl and his family for most of the year, we enjoyed being able to see so much of the house.
The 5th Earl was famous for his collaboration with Howard Carter that led to the discovery of the tomb of Tutankhamun in1922. This is commemorated in an excellent exhibition at the Castle containing a range of fine objects that the Earl was able to keep from the excavations and most impressive replicas of major finds from the tomb. They seemed scarcely distinguishable from their originals. A nice follow-up to our February lecture.
The landscape was designed for the 1st Earl in 1774-1777 by who else but 'Capability' Brown. If we could not see all the views in the rain, we could at least admire the beautiful cedars of Lebanon (and some endearing spring lambs).  Those who ventured into the rather soggy gardens found some great drifts of daffodils and what will no doubt be splendid herbaceous borders in the summer.
After lunch we went the short way down the road to see Sandham Memorial Chapel. It was built in the 1920s to house the murals by Stanley Spencer and as a memorial to Lieutenant Henry Sandham, brother of Mary Behrend, who commissioned the chapel with her husband, Louis. We had an introductory talk and then a most informative guided visit to the 17 paintings covering the entire walls of the chapel. Painted between 1926 and 1932 on large specially made and pre-erected canvases, they are remarkable for their detail and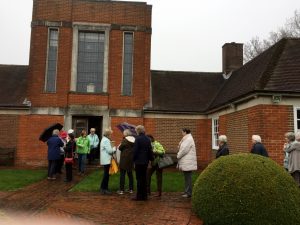 probably Spencer's defining work. Dominated by soldiers and their crosses in the Resurrection scene, the murals tell not of violent scenes but of ordinary life in military hospitals and soldiers away from the battlefield, based on Spencer's own experiences in WW1. Gratefully climbing back on to our warm coach, we could reflect on a fascinating and moving memorial in this 100th anniversary year of the conclusion of the Great War.