Drawing on her extensive knowledge and experience of Art and Architecture as a Lecturer for Tate Modern, Tate Britain, Guildhall Art Gallery, Pallant House Gallery and official guide for the City of London, Alexandra Epps took us on a tour of Coventry Cathedral and the work of commissioned artists who caught the vision and spirit in the rebuilding of this symbol of hope and reconciliation after its destruction in 1940.
For each piece of art work, Alexandra described in brief but fascinating detail with plenty of illustration, how the architect Sir Basil Spence saw the design as one of a "garden of creation" for himself and each artist. How for instance Jacob Epstein designed the beautiful 25ft sculpture of St Michael. How John Hutton created the 70ft x 45ft wide glass wall screen and the engravings of the 66 saint and angel figures, which took eight years to complete with the different steps and design problems it had. How the great tapestry of Christ surrounded by four evangelists which hangs behind the altar and looks like a fresco, was the inspiration of Graham Sutherland: but since it is the size of a tennis court it proved a real headache to weave with its 900 different colours and weight of one ton.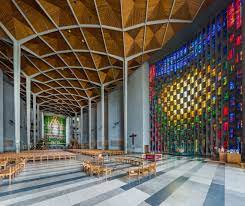 The artist John Piper took two years to design the 60ft baptistry window with its 198 cartoons, which were translated into glass by Patrick Reynstein.
Even the Eagle Lectern by Elizabeth Frink has its story as she drew inspiration from kindling wood to create the eagle's wings. The stained-glass windows in the nave, which reveal themselves as one walks towards the altar, were the work of Laurence Lee, Keith New and Geoffrey Clarke who each brought their own original new glass techniques to the design.
Alexandra's tour ended with the high altar cross: a phoenix rising from the ashes – referencing the two beams that fell from the original cathedral and the 80ft hollow spire on the top of the Cathedral. Her brilliant exposé made us see and appreciate that Coventry Cathedral is a journey from destruction and dust to creation, from sacrifice to resurrection and reconciliation. It was consecrated by Queen Elizabeth on the 25th May 1962.
Liz Beecheno