On a cold and frosty, but sunny, December morning 81 members and guests of The Arts Society Grayshott met for their annual Christmas Lunch and what a festive and memorable occasion it was! Waverley Abbey House, with its picturesque lakeside setting and historic charm, was, yet again, the perfect venue for this very popular event.
Our guest speaker, Roy Stratford, got the day off to a brilliant start with his 'The Meaning of Music'.  Such a huge topic to cover in one hour!  However, Roy's charismatic, learned and humorous approach ensured that we, at the very least, left with a revived musical vocabulary.  Words like 'major and minor, happy and sad, scales, dissonance, falling thirds' will be helpful tools to remember when examining a piece of music more carefully. He highlighted how organised composers, especially the German ones were and are. He demonstrated each aspect of his theme by playing examples on the piano and with selected recordings. Remembering the suggestion that music can be more powerful than the spoken word, there was a wealth of fascinating information for music lovers to mull over.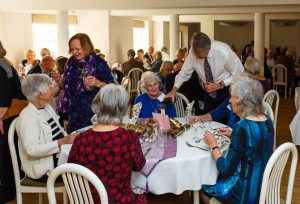 With those thoughts in mind, we went downstairs to enjoy the welcome pre -lunch mulled wine and nibbles.  Here friends could enjoy a 'catch up' with each other, discuss our new musical knowledge or just enjoy the wonderful sunshine in the lounge before moving through to the dining room for lunch at 1pm. The sun continued to stream through the dining room, adding to the warmth and convivial atmosphere that was already evident.  Delicious food, flowing wine, silly hats and jokes from Christmas Crackers all ensured a totally enjoyable time.

It was only fitting, therefore, that the President, Nicky Wilson, and Chairman, Derek Linney, should thank Roy for his excellent talk, the staff for their very efficient and pleasant service and the committee for their continuing help and support.  Without the latter we would not have had this day to add to our Christmas memories for 2018.