Guided tour of Parham House, one of our finest Elizabethan Houses, with its collection of art, furniture and early needlework and beautiful gardens. Followed by a visit to Goring-on-Sea to see the astonishing replica of the ceiling of the Sistine Chapel in the English Martyrs Church.
You can see a report on our visit here and more pictures in the photo gallery here


Parham House, which lies between Pulborough and Storrington in West Sussex, is an Elizabethan stone house, started in 1577, with an elegant fountain court, a lake and a deer park. It was made on the site of a former monastery and some of the oaks date from that time.
One of Simon Jenkins's top 20 great houses in Britain, Parham has been carefully restored since being acquired by the Pearsons in 1922. It boasts the third longest Long Gallery in the country and houses an important collection of art, furniture and early needlework.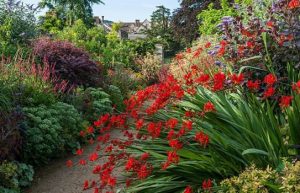 Probably the highlight of the extensive grounds, with views of the South Downs, is the four-acre walled garden, also beautifully restored with herbaceous flower borders, fruit, vegetables and herbs, glasshouse and even a 1920s Wendy House.
We shall have a guided tour of the house and then time to look round the gardens and have lunch. You can book a light lunch at Parham's café or bring your own packed lunch.
In the early afternoon, we will drive on to the English Martyrs Catholic Church at Goring-on-Sea to see the remarkable replica of the Sistine Chapel's ceiling.  It is the work of Gary Bevans, a sign writer parishioner and a natural artist with no formal training. Starting in 1987 after attending a parish pilgrimage trip to Rome, the task took him more than 5 years. It is two-thirds the size of the original, with colours that match the cleaned ceiling in the Vatican.