In this month's lecture, Professor Colin Davies, himself an architect, introduced us to one of the most influential architects of our time who, although working all over the world, chose to live in London throughout her adult life.
Zaha Hadid was born into a wealthy family in Bagdad where she spent her childhood.  She grew up in a culturally liberal atmosphere and was in the privileged position of being totally indulged.  By the age of eight she was already designing her own clothes and bedroom and her natural talent was allowed to flourish.
She went to Boarding School in England, Finishing School in Switzerland and University in Beirut to study mathematics.  However, she only wanted to study architecture and the recognised centre of excellence was England, and specifically the Architectural Association School in London.
She had enormous energy and enthusiasm which impressed Alvin Boyarsky who was Head of the School at that time.  Instead of employing middle-aged teachers, Boyarsky looked to much younger individuals who, in some cases, had only finished their training a few years earlier.  This of course created its own atmosphere of energy and creativity.  Whilst at the school Hadid, met up with, and worked alongside, Rem Koolhaus, Bernard Tschumi and Daniel Libeskind who all subsequently became very famous.
Zaha Hadid was also an extremely talented artist and painter and you can see from some of her earlier works and projects the influence of Russian Modernism of the 1920s and 30s.  In fact her student project – titled "Malevich's Tektonik " – was a design for a Hotel over the Thames located on Hungerford Bridge and which showed the influence of Malevich's art.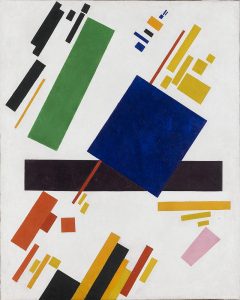 Some of her early paintings and projects were so uniquely different and avant-garde that they were quite difficult to comprehend and many critics complained her designs were unbuildable.  Her first built project was Vitra Fire Station, Weill am Rhein in 1994 but unfortunately it was converted into a furniture warehouse only 6 months later.  In the same year she won the Competition for the Cardiff Bay Opera House, but the client would not accept the result.  Having won but then been rejected, Hadid was so upset she nearly gave up architecture.
Her practice was transformed in the 1980's by the arrival of Patrik Schumacher.  She did not take to him initially but he was a great intellectual and an expert in computer aided design so together they created the perfect professional partnership and Hadid's career started to take off.
The BMW Central Building, Leipzig 2005 was the first major project to go ahead bringing everything  together, i.e. offices, production line and factory floor.  This was followed by the Phaeno Science Centre, Wolfsburg 2005 and the MAXII museum in Rome 2010.
Her style was beginning to change becoming more curvaceous and taking full advantage of computer aided design, and she was winning projects all over the world in Europe, USA, Asia and the Middle East.
In this country, her design was used for the Evelyn Grace Academy in Brixton in 2010, remarkable for the running track which goes straight through the building, The Riverside Museum of Transport in Glasgow in 2011 and, of course, the Aquatic Centre for the Olympic Games in 2012, followed by the Restaurant area at the Serpentine Gallery 2013.
Other projects around the same time were the Heydar Aliyev Cultural Centre, Baku 2012, the Galaxy Soho, Beijing in the same year.  The Harbur House, Antwerp 2016 and the Guangzhou Opera House in China and the new Beijing Daxing International Airport.
She had a reputation for being rather difficult but Rem Koolhaas said that in addition to her beauty, intelligence and style Zaha Hadid was the most charismatic person he had ever met.  When she died two years ago architects from all over the world queued up to pay tribute to her.
Amongst many other awards, she won the Pritzker prize, the Stirling prize, the RIBA Gold medal and was made a Dame Commander of the Order of the British Empire in 2012.