Brian Stater began his exploration ofPhotography of the Swinging 60's, by quoting Harold Wilson – 'The day of the dynasty and the era of nepotism is over'. The Sixties saw not only the end of the old aristocracy but a time when young men and women acquired greater confidence often resulting in an outflowing of flair and creative design.
He chose Parkinson's 'Black Trinity' of East Enders; David Bailey, Terence Donovan,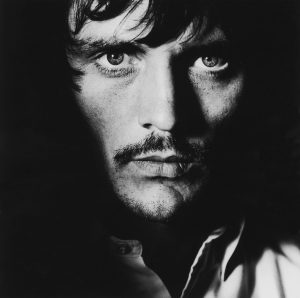 Brian Duffy as well as Tony Ray-Jones and Jane Bown. Bailey, diagnosed later as dyslexic, left school in 1953 at 15 with no qualifications. It was during his national service with the RAF in Singapore that he became really interested in 'this photography lark'. In 1959 he went to work for the 'establishment' fashion photographer, John French then moved to Vogue and in 1961 bought his single lens reflex camera. His rapport with the models was crucial to his photographs. Their sense of movement and swing was so different to the stiffness of the 50's photographs. With Duffy and Donovan he socialized with actors, musicians and royalty, becoming celebrities themselves.
Bailey and his muse, Jean Shrimpton soon became an item. 1962 saw them on their first foreign assignment in New York. He cut across what Vogue had envisaged and went to Harlem for locations that he scouted himself, carried his own equipment, insisted on his single lens reflex camera and Jean did her own hair and make up. The Vogue Editor was said to have spent most of the trip in tears. The resulting work was very controversial and, had it not been well received, his career would have been over. He made a serious contribution to portraiture, especially of men such as Rudolf Nureyev, Mick Jagger, The Beatles,
the Kray twins. Relishing professional danger, he took the photos of Reggie's wedding. Lennon admitted to being slightly in awe of him. Having declared I'm not interested in composition, his 35mm negatives often evidenced that 0.61 Golden Ratio of classical architecture, witness to his sheer innate genius rather a classical education!
Terence Donovan, like Bailey, worked for French before opening his own Knightsbridge studio at 28. He wanted to create working class chic and often, in his shots of Twiggy, symbols of masculinity such as shorts and a waistcoat were given a feminine twist.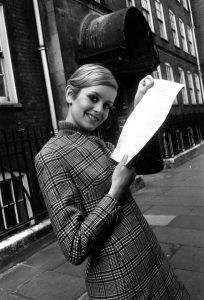 His male models were shown in a tough, dark urban environment not posed on a 'shooting stick in Regents Park'! Brian Duffy had some formal training in dress design at Central St Martins. His work featured powerful, assured women rather than the topical  'chick' culture. For Bailey, 'Duffy and aggravation go together like gin and tonic'. Tony Ray-Jones documented the idiosyncrasies of English society. He explored strange almost surreal moments, as in his shot of a couple enjoying their Glyndebourne picnic as cows graze nearby or the English obsession with drinking tea even in the rain! In contrast Jane Bown, barely 5', tall, had the appearance of a benign granny but was more of a Miss Marple in her photojournalism. Living comfortably in Alton she travelled to London two days a week to work at the Observer. To Lord Snowdon she was 'a kind of English Cartier-Bresson' with portraits the result of her 'shrewd and intellectual eye'. To illustrate the Sixties as a time of new confidence, flair and uninhibited design, permeating not just fashion photography and cars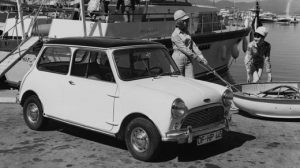 but furniture, Brian chose the chair portrait of Christine Keeler, revealing what was concealed.
At next month's meeting, on Thursday May 2 at 2pm in Grayshott Village Hall, Julian Richards will chart the development of ceramics.
For more information please contact Caroline on 01428714276.