What a pleasure it was to be back at the V. & A. again; whilst a few of our members had been recently most of us had not ventured there since before lockdown.  Sculpture exhibitions are fairly rare but this one was a real treat and I think it surprised many just how interesting and absorbing it proved to be.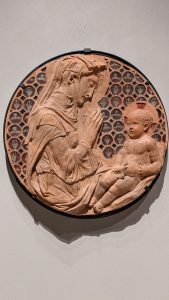 Donatello was born in Florence around 1386 and executed works in marble, bronze, terracotta, stone, wood and clay, displaying incredibly intricate carving. He also developed a new, very shallow type of bas-relief for smaller works such as plaques. It comes as no surprise that he and his fellow sculptors were initially trained as goldsmiths before gravitating to sculpture. He established his workshop in Florence and like Michelangelo enjoyed steady support and patronage from the Medici family.  He went on to spend a few years working on commissions in Rome, Sienna and Padua before returning to Florence.
Our introduction to the exhibition was Donatello's large free standing stone statue of 'David' which was the first nude male statue to be created since antiquity.  He subsequently created a smaller figure of David in bronze, a medium that he pioneered, an image of which was used to promote this event.  As we moved through the exhibition there were other marble figures and busts of Popes looking rather severe, apart from the one bedecked with jewels.  There were marble plaques of the Virgin Mary with the Christ child and some with biblical scenes commissioned for various churches, all with amazingly intricate carving.  Similar scenes were also shown in terracotta and stucco. 
An enormous bronze horse's head towered above the other exhibits emphasising a sculptor who was equally at home with large scale works as he was with smaller items.  In fact while he was working in Padua in 1450 he produced a large bronze equestrian statue for one of the squares of there which was the first example of such a monument since ancient times.  It became the prototype for all those executed in Italy and Europe in the following centuries.
We all enjoyed a lunch break in the restaurant to revitalise our minds before embarking on a trawl around the many other treasures held in the Museum.  There seemed to be no limit to the items that you didn't know you were interested in, (spread across 7 miles of galleries!), so our group had an aura of exhaustion by the time we assembled for the homeward journey.  However we all felt that is was a most rewarding day out.
Wendy Allan