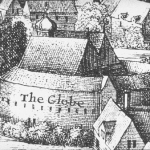 Another big turnout of 50 members enjoyed this rewarding, if wet, day in London. Arriving on the South Bank of the Thames, we stopped off at The Swan, by Shakespeare's Globe Theatre, for some tea and coffee before walking along to the theatre for our guided tour.

As Elizabethan theatres did not really have what we understand as a 'Backstage', we sat in the shelter of the galleries to view this delightful reconstruction. Our guide, surely an actor, told us in the most entertaining and informative way about the theatre's origin, its evolution and Elizabethan theatregoers. We followed our guide's performance with a visit to the excellent accompanying Shakespeare Exhibition. I know several of our group want to return to revisit the exhibition, take the opportunity to go to a play perhaps in the Sam Wannamaker Theatre, the new winter playhouse or in The Globe next summer.

After lunch, our coach took us across the river to Goldsmiths' Hall for our tour. Home of one of the 12 Great Livery Companies, it is open to the public on very limited occasions. Sadly, the Curator who had given us an inspiring lecture last year, was unable to lead our tour as had been planned. However, with a different guide, we heard about the Hall's history, and witnessed the magnificence of the lavish decoration of the staircase, main hall and its adjoining large rooms. Unsurprisingly, there was a surfeit of gold (and silver) to be seen, not least in the showcases displaying the work of contemporary young silversmiths. Our visit certainly provided plenty to mull over on our journey home.