Our journey, in glorious Spring sunshine, through the Sussex countryside with its sweeping views of the South Downs brought us to Charleston Farmhouse; the country home of Vanessa Bell and Duncan Grant and a place much frequented by other members of the Bloomsbury Group.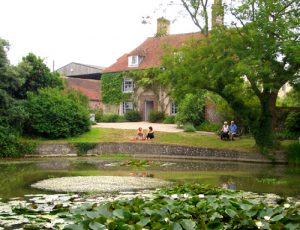 After some refreshments, we were guided round the house in small groups thus giving us the opportunity to have questions answered by our excellent guides and truly appreciate this fascinating place. Its paintings, textiles, ceramics, heavily decorated furniture and lavishly decorated walls had all been designed and fashioned by the occupants or their family and friends. It was an ideal day to explore the lovely garden nestled in such a beautiful setting and there was even time for some to indulge themselves in the shop.
On arriving in Brighton for lunch, some of us made the most of the weather and dined al fresco before strolling through the Royal Pavilion Gardens to the Prince Regent's pleasure palace. With its scale, its minarets and domes, the exterior presented a marked contrast to Charleston but the chinoiserie interior presented an altogether different surprise. Our knowledgeable and entertaining guides described how the Prince Regent was intimately involved in the design and furnishing of this palace that developed from the modest house, he had first rented on the site. The cunning use of tromp l'oeil added to the impact of this exotic, extravagant and extraordinary building. The practical and modern design of the kitchens, the huge awesome chandeliers, the deceptive use of metal to appear as bamboo in ballustrades and spindles and throughout the riot of colour and the seeming omnipresence of gold and silver, all intensified this impact. So different from Charleston's world and the world we stepped back into after our tour!
Once again our visit wetted the appetite to return and explore further these contrasting and fascinating places.