The May lecture by Bernard Allan, covered the lives of 3 female artists over a period of four and a half centuries. Having much in common, they all struggled to gain recognition in their lifetimes as they were operating in a male dominated world. They needed shear determination to succeed.
Artemisia Gentileschi (1593-1662) was born in Rome. Her Mother died young and she was brought up in a male dominated household. Her father was an artist.
She suffered the trauma of being raped as a teenager and this must have influenced her attitude to men. Her attacker was found guilty in court but her reputation was damaged. After this she was 'married off' and subsequently had four children.
Many of her paintings have historical/biblical themes often depicting male subjects being repelled, and many paintings have female heroines. She used varied mediums, her work being very realistic and ambitious,  often on a huge scale and showing strong emotions and violent situations. She had great skill with light, colour and drama.
Artemisia spent time in Florence, Rome, Naples, Venice and the English court of Charles I, where she may well have done work in the Queens House, Greenwich. Later in life she built up workshops and collaborated with other artists.
Elizabeth Le Brun (1755-1842) was born in France and was the daughter of an artist father who may well have influenced her but did not formally train her.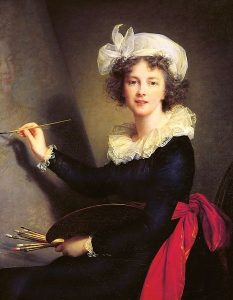 At a very young age she was earning money from painting accomplished portraits for which she could charge high fees. She moved to the French court and became friendly with Marie Antoinette whom she painted many times. She became a refined socialite, and suffered criticism from the male dominated art world. She gained admission to the Royal Academy in Paris and painted influential people helped by her royal patronage.
Elizabeth had to flee from France at the beginning of the French Revolution and spent 12 years travelling around Europe. She was very prolific and known to have produced over 600 works.
Dame Laura Knight (1877-1970) was born in Nottingham. She never knew her father and lived with her Grandmother in a large female household, who were involved in the declining lace trade.
She spent a short time at Nottingham School of Art where she met her husband, but did not complete her training as she had to return home to nurse her dying mother.
She was influenced by America where she lived for 10 years. She also lived in Holland but in 1907 moved to Cornwall near Newlyn. Loving the light there, she produced many of her best works which were often set in the locality. She was proficient in many different mediums and became an Associate member of The Water Colour Society. Laura painted female nudes for which she received some male criticism. Ballet and the circus were among her subjects and she was famous for using a Rolls Royce as a studio! She became a Second World War artist and depicted the Nuremberg trials.
All these women were truly great artists and their work is now, in the 21st century, getting the recognition it deserves, their paintings are now valuable and hang in art galleries throughout the world. The lecture was illustrated with beautiful images of their work.
Dee Pidgeon