Shauna Isaac has been active in World War II art restitution for several years and has worked with families and government organisations to recover Nazi looted art. She also has a personal family interest in the subject. Her great aunt, Lea Bondi Jaray, had been pressured to hand over Egon Schiele's 'Portrait of Wally Neuzil' to an art dealer during the war in exchange for being allowed to leave Germany. Fruitless efforts were made from 1953 to 1997 by Lea and her descendants to recover the portrait, at that time in the Leopold museum in Vienna.
Eventually, after extensive legal wrangling, following a move to a MOMA exhibition in New York, a settlement of $19 million was made to the family in 2010 in exchange for the portrait remaining at the museum. With erudition and warmth Shauna traced for us the origins of why and how the Nazis looted art throughout Europe during the war and then looked at several well-known contemporary restitution cases.
Hitler was refused entry twice to the Academy of Fine Arts in Vienna, beaten by Egon Schiele and Oskar Kokoschka, and this fuelled his anti-Semitism. The Nazis approved of classical and Renaissance art but abhorred the modern non-representational 'degenerate art' such as that of Picasso, Klee and Kandinsky. Enough was collected for a degenerate art exhibition in 1937 designed to show how much art had deteriorated during Jewish and Bolshevik involvement. After destroying some it was realised that there could be a trade value for the war effort and much was sold. Art became a major wartime commodity.
Hitler planned a Führermuseum in his home town of Linz in Austria, to showcase German art. He commissioned Otto Kümmel to compile a register of German art throughout the centuries now found in other countries in Europe. A highly systematic and organised 'recovery' of this lost art was instituted and museums throughout occupied Europe took steps to guard their treasures. Private individuals were less able to do so. It soon became not limited to just German art nor to what would grace the Führermuseum alone, and vast repositories were created e.g in the Jeu de Paume in Paris and in salt mines such as at Althausee, eminently suitable as they were underground with constant temperatures, huge spaces and away from prying eyes. Over 1000 repositories were discovered.
The allies realised that European art had to be saved from bombing raids and, later, Nazi looting. In 1943 the 'Monuments, Fine Arts and Archives Section' was set up, composed of artists, architects and historians known as the 'Monuments Men',supported by brave helpers in the occupied countries such as Rose Valland in France, whose meticulous cataloguing of stolen treasures resulted in about 3000 French works being saved.
After the war, it was agreed that art would be returned to its country of origin, to central points from whence agencies within the countries would then make efforts to find the rightful owners and return the art to them. Claims for restitution during the 1940s and 50s then receded until the 1990s when there was a resurgence of interest due to the fall of the iron curtain, 50 year privacy laws beginning to expire and the rise of the internet.
At a conference in 1998 in Washington DC several principles of restitution were drawn up, essentially agreeing that every effort would be made to return the art to their owners or heirs.
By that time, much of the art in question had had several owners, was scattered in museums and art galleries Europe-wide and that all-important provenance has been a very difficult subject to investigate, document and prove.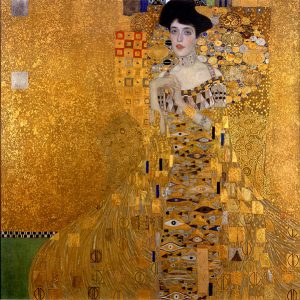 Several cases involving well-known paintings have taken years to settle e.g the Klimt portrait of Adele Bloch Bauer and Picasso's portrait of Angel Fernandez owned by Andrew Lloyd Webber. Lucas Cranach's 'Cupid complaining to Venus' in London's National Gallery has a huge gap in its provenance from 1909 to 1945 and the gallery maintains a list of its paintings whose whereabouts between 1933 to 1945 are unknown. There are still calls for information from museums to the public and entire departments of major auction houses exist to deal with Nazi looted art. Significant finds occur still, e.g. that of the German art dealer Cornelius Gurlitt in 2012.
A sobering set of figures that Shauna left us with;
A conservative estimate of 20% of European art was looted by the Nazis between 1933 and 1945
Some 2,200 art works in French museums do not have a fully traced provenance relating to the war years.
About half a million art objects, excluding books and manuscripts, worth some £25 million are still at large and unaccounted for.