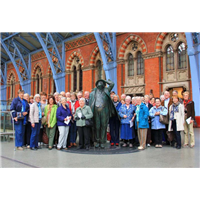 Andrew Davies followed his February lecture by leading some 40 members on a tour of the St Pancras and Kings Cross area. We enjoyed perfect weather and Andrew proved an ideal guide, marrying his encyclopaedic knowledge to enthusiasm and humour to keep us fascinated and entertained throughout the day.
At St Pancras he showed us how the majesty of the Victorian architecture has been preserved but converted to accommodate Eurostar and modern demands. He had us empathising with the dray horses bringing beer from Burton-on-Trent to the cellars in the brick undercrofts that have been restored to use as shops and cafes. Gazing at the somewhat controversial 'The Meeting Place' sculpture, we were impressed by the delightfully observed and often humorous frieze depicting various arrival and departure scenes.  The extraordinary and both literally and figuratively, uplifting roof structure of the new ticket office at Kings Cross was complimented by the restored facade and the new square at the station. However, we were unable to board the Hogwarts express at Platform 9 3/4!
After lunch we investigated the major developments taking place behind Kings Cross.The carefully preserved old Granary buildings now extended and occupied by Central St Martins, the new Granary square, the plans to convert four of the old gasometers and the new buildings planned or in progress such as the Waitrose and Google HQs.
We rounded off a thoroughly rewarding and interesting day by stepping back in time as we entered St Pancras Old Church with its stone altar dating back some 15 centuries and with associations with Thomas Hardy, Shelley and many others. Interesting to see the tomb of Sir John Soane – the inspiration for the design of our familiar red telephone box.