Sumptuous Colours and Miraculous Stories
At this month's meeting Roger Rosewell gave us an insight into the wonderful world of medieval stained glass. He explained that the greatest numbers of medieval paintings are those in stained glass. Their strong portraits and powerful images evoke a range of emotions. Whereas a medieval painting could be worked on at eye level and appropriately framed later, the size of and frame for a stained glass window was decided by the building's architect and the artist often did not work at eye level.
Stained glass depends on transmitted light. As the sun moves around the building it affects the glass differently but Anglo Saxon churches had small windows and shutters. According to Bede, the Abbot of the Wearmouth-Jarrow monastery built circa700AD, had seen coloured glass in church windows in Rome and, wanting it, brought glaziers and stonemasons from Gaul, probably Normandy. As no one in England knew how to make coloured glass, the glaziers probably brought it with them, often from the Rouen and Alsace-Lorraine areas. Initially the artist drew a design and showed it to whoever was the donor. Then the design was made into a cartoon, and colours and lines indicated on a whitewashed trestle table. Each table had to be cleaned after the design so the glaziers could reuse repeatedly. There were 15 tables at Westminster Abbey.
After heating the sand at high temperature then letting it solidify into glass, the panel would be made using a blow/stretch technique. To fit pieces of glass into the cartoon, a red hot 'poker' would mark them and then they would be 'snapped' and filed to shape. This cutting was a very valuable skill. For example think of the effect of hair falling over a shoulder as in a window at Fairford Church. Depth and perspective could be achieved by painting the back as well as the front of the glass. As red glass was opaque, red would be painted on white glass and pumice used to produce an effect.  Holes might be drilled in coloured glass and then another colour wrapped in lead and inserted. With the glass cut, painted and fired the panel would be assembled using lead and then fitted into a window, retained with an iron grid,  'ferramenta'. Sometimes a glazier would move/tilt faces to avoid shadow on faces from the 'ferramenta'. From the mid C15th glaziers had access to block book of designs and by the end of the C15th they were buying in sketches from artists. Dürer provided the sketch for a stained glass window in Nuremburg.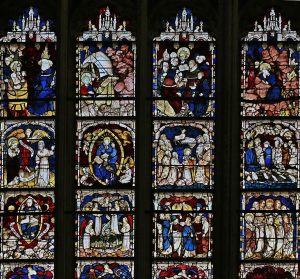 The discovery that buttresses against walls supported bigger windows transformed stained glass. The time and skill needed to create these windows made them very expensive and so they might be reserved for special places such as above the altar. In parish churches images might be smaller and the glass only in the east end. The windows were seen as part of devotion and a way to inform the many who were illiterate. Gradually secular and heraldic images were incorporated, reflecting their donor. As England's growing wealth was manifested in this glass, the aristocracy's craving for Flemish glaziers provoked trouble with the London guilds. With the Dissolution of the Monasteries under Henry V111, the C16th Civil War and C20th bombing much stained glass was destroyed. If replaced, it was often with plain glass.
At next month's meeting on Thursday April 4 at 2pm in Grayshott Village Hall, Brian Slater will explore British photography of the Swinging 60's.
For more information please contact Caroline on 01428714276.