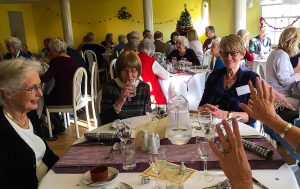 We celebrated Christmas this year with a special lunch at Waverley Abbey House which is a Grade II listed Georgian mansion by the River Wey between Tilford and Farnham. It's owned now by a Christian charity which uses it for training and conferences.
Before lunch, Robin Crawford, a Farnham Town Guide and Jackie Girling,, the Manager of the House, gave a talk to us about its history.
Amy Turk who teaches at Hindhead Music Centre, kindly agreed to play for us on the harp during pre-lunch drinks.