Now a firm fixture in our calendar, we'll again be holding our Christmas lunch at Waverley Abbey House.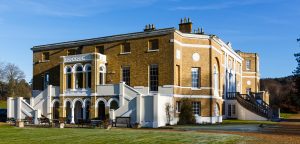 Waverley Abbey House is a grade II listed Georgian mansion by the River Wey between Tilford and Farnham, now owned by a Christian charity which uses it for training and conferences.
This year we're going to have a musical theme for our pre-lunch talk. Roy Stratford will talk to us, with musical illustration, about The Meaning of Music. Roy is a pianist, conductor, composer and lecturer. He has a strong reputation as a knowledgeable and entertaining speaker and gives regular talks at, amongst other places, the Wigmore Hall, West Dean College and Hindhead Music Centre.
After Roy's talk we'll have mulled wine in the lounge followed by lunch in the dining room. The timetable for the day will therefore be
11.15 Talk on The Meaning of Music by Roy Stratford
c12.20 Reception with mulled wine
13.00 Two course lunch (choice of four main courses and four deserts) followed by coffee and mints. Wine, soft drinks and crackers included.
c15.00 Carriages
Travel by car. We will arrange lifts for all who need one. Just let us know if you do.
Spouses and partners will be most welcome.
The menu can be viewed here.
Tickets £27.50  You can book on-line here. Or book at the Visits Desk at our October or November meetings or ring Peter Crowfoot on 01428 608942