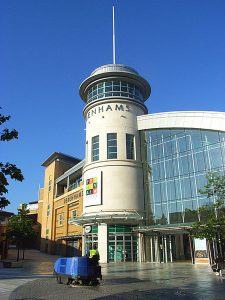 The title of this month's lecture had aroused various reactions before our meeting when Rupert Willoughby sought to illustrate the less well-known aspects of this much-derided town. Renowned for its dullness, distinguished by its roundabouts and Modernist Architecture even local residents have given it unflattering nicknames yet today the town has one of highest rates of pay and employment in England
In 2004, the town launched its PR Campaign – 'A Place to be Proud of ' but many still grimace at Mountbatten House's 'Hanging Gardens of Basingstoke' and the 'Costa del Basingstoke ' apartment block built in the style of a Spanish holiday block near the station. Some visitors miss the 'Great Wall of Basingstoke ' built in the 1960's to retain the concrete paved-over old town. However, Basingstoke has a rich archaeological history. Bronze and Iron Age Settlements preceded the Romans. It was an ancient market town mentioned in Domesday Book and St Michael's church existed then. The Chapel of the Holy Ghost dates back to Tudor times. Although strategically positioned on the route to London from Southampton and South West England, the town seemed to change little from 1689 to 1831 until the coming of the railway accelerated industrial manufacture.
By the mid-20C Modernism was the dominant architectural style. The Greater London Plan sought to shift 1.3 million Londoners into New Towns and transform dreary market towns. In Basingstoke, 146 acres were designated for redevelopment – a euphemism for demolishing much of the old town. By 1965 it was if a giant had scooped out the town's centre. Some very old houses and historic Church Street Chapel, modelled on Holy Trinity, Sloane Street were demolished. By the 1970s money was short and so some parts of Church Street survived. Church Cottage was a farmhouse and the Crown Inn was one of the town's five coaching inns.
Basingstoke has produced few great men. Gilbert White was tutored in the Vicarage and admitted to joining a local gang and helping vandalise the Holy Ghost Chapel. Jane Austen's father was rector at nearby Steventon and she danced at the Town Hall, now demolished. Her desk, made in Basingstoke, travelled with her and is now in the British Library. The enterprising draper, Thomas Burberry, set up business in Winchester Street. He invented the gabardine named after the old word for a peasant's smock. Burberry dressed great explorers like Scott, Shackleton, Mallory, Irvine, Alcock and Brown. The trench coat became regulation officer's dress in WWI.