Since the advent of live opera being screened to halls and cinemas around the country, it has been possible for many more people nationally to appreciate opera. In this month's lecture, Janet Canetty-Clarke gave us a truly inspirational exploration of the life and works of Wolfgang Amadeus Mozart, one of opera's 'Greats'.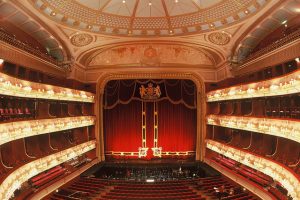 Born in Salzburg in1756, by the age of five he was performing in public. His sister, Nanneri recalled him at the keyboard playing and composing pieces that his father, a violinist, teacher and composer, would write down. The young Mozart and Nanneri gave several performances throughout Europe. At eight he composed his first symphony and at eighteen his first opera, La Finta Giardiniera was performed in Munich. However, he was without a permanent position and financially fragile.
He travelled throughout Europe in search of a position. His mother, becoming anxious about him, went with him to Paris. He hoped to raise money from concertos he composed for flute and harp but was not paid. His mother became depressed and delays in sending for a doctor may have hastened her death. Meanwhile his father obtained a position at court for him and he returned to Salzburg in 1779. He was fascinated by the supernatural and a lot of his work has links to hocus pocus and magic. In Salzburg he was encouraged to join a secret society.
Three years later, he went to Vienna for the accession of the new Emperor and subsequently resigned his Salzburg position to move there. The Empress Maria Theresa loved music and, with her husband's support, Mozart gained recognition as a composer. As in Salzburg, he would be seen trundling his piano across the cobblestones and then tune it prior to playing! Despite his father's opposition and refusal to attend the wedding, he married Constanze, the younger sister of Aloysia who had previously refused him. They had six children but only two boys survived. In Vienna, he became a Freemason and met Haydn who declared 'posterity will not see such a talent again in a hundred years'.
The Marriage of Figaro premiered in1786 followed by Don Giovanni in 1787 though both had more success in Prague. In the late 1780's, financial constraints increased. It seemed he was not being taken seriously and the world had turned against him. His friends among fellow masons proved invaluable at this time. Composed in the year before his death and performed in a theatre and not in an opera house, The Magic Flute played to packed audiences.
Aged 35 he died while writing his Requiem and it was finished by a paying guest/student in his house. Famously, Toscanini never went beyond where Mozart's pen went down. The cause of his death is uncertain and not being a member of the aristocracy, he was buried in a 'common grave'. During our tour to Vienna later this month our members will witness just how proud Vienna remains of their 'adopted son''
At our next meeting on Thursday October 4 at 2pm in Grayshott Village Hall, John Iddon will trace the career of Charles Rennie Mackintosh.
For more information contact Caroline on 01428 714276.