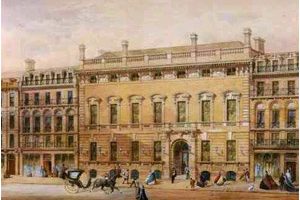 As there are limits on the numbers that can tour The Garrick Club and Royal Opera House, we ran two visits. The record number of members enjoyed two outstanding days , largely centred on the performing arts. A reward for such an early departure!
Conveniently dropped off from our coach beside the Theatre Royal In Drury Lane, we walked through Covent Garden to The Garrick Club, where, after coffee, we had a splendid guided tour by NADFAS lecturer, Francis Hughes and Drama lecturer and Casting Director Sarah Hughes. Named after the famous C18th actor David Garrick, the Club was founded in 1831. Nearly all our most distinguished actors, many writers and and artists have been members. Still a gentlemen only club, lady guests are permitted but, disconcertingly, are required to use the back stairs to access the upper floors.
Francis and Sarah took us through all the elegant principal rooms to see the world's largest collection of art and memorabilia, relating to the theatre. Every wall was crammed with portraits of famous actors, some by famous artists such as Zoffany and often depicted in theatrical pose. For example, we learnt that to portray an upper class person, one must stand with feet at right angles. We heard many fascinating and often amusing stories about theatres and actors. In truth, we could have spent all day there but, at mid-day, we had to leave so gentlemen could gather for lunch, undisturbed.
From The Garrick it was a short step to either The Royal Opera House or Freemasons' Hall. Our backstage tours of 'The House' were a real treat. What one sees varies from tour to tour, according to what is happening in this vast and sometimes bewildering complex. How often do people get lost there, one wonders? However, not us as we had two lovely guides. Everyone was most impressed by the sheer scale of what is needed to stage an opera or a ballet. We marvelled at the technology for changing sets, often three times in a day, for different rehearsals and performances; the props and costumes and the beautiful Floral Hall. Many of us were able to visit the Auditorium and also see either the corps de ballet or two of the principals of the Royal Ballet, in class. We began to understand those ticket prices!
Some other members went to tour what you might call another gentlemen's club, nearby Freemasons' Hall. Much quieter than the Royal Opera House but also very grand, it is one of England's finest Art Deco buildings and is often used for TV and film locations. It has even hosted London Fashion Week. Built as a memorial to those who died in World War 1, it is the HQ of the United Grand Lodge of England and a meeting place for many other London Masonic Lodges. Once again we were blessed with excellent guides. They explained the beautiful decoration, rich in symbolism and descibed the history of the Hall and of Freemasonry; with its origins among medieval stonemasons, its subsequent growth and worldwide spread and the charitable work done by Masons. Our guides were very open in answering (almost) all our questions about Freemasonry. There was a fascinating exhibition covering 300 years of Masonic History and some members were able to consult records in the library, to find out more about relatives who were Masons.
This was definitely one of our most memorable day visits.