At the first meeting of the New Year, Nicola Moorby gave an inspiring lecture on two very different painters fourteen months apart in age, who came from diverse backgrounds and how this influenced their lives, their art and how they wanted their work to be perceived. They were artistic rivals and both wanted to depict nature, turning their backs on portraiture which was the fashion at the time.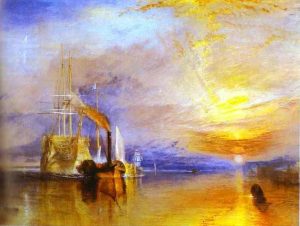 Turner was an only child born into what would have been considered a relatively working class household. His father was a wigmaker and barber and they lived in a small house in a dark, narrow street in Covent Garden. When he was 10 years old, Turner's mother showed signs of mental disturbance and continued to be ill throughout his childhood, eventually being admitted to a mental asylum. Maybe this rather gloomy situation encouraged Turner to want to create pictures that enabled the viewer to be transported to the colour, light and beauty of landscapes and seascapes, at times mythical in perception. Certainly his skills developed rapidly and at the age of only fourteen Turner started to study at the Royal Academy of Art. Mr Turner Senior was ambitious for his son and exhibited his pictures in the front room of his 'shop' charging his customers a shilling to view them. Turner was already on a road to success.
Constable on the other hand was brought up in the beautiful countryside of Suffolk. His father, a wealthy mill owner, had built his own country house and seemed to enjoy giving the impression of being the Lord of the Manor. Constable himself was the eldest of six children and the family appear to have been very happy. Constable grew up wanting to paint what he saw in an idealistic way. He was preoccupied with the Suffolk landscape and did not dress up his pictures but painted what he actually saw, considering it to be both poetic and beautiful. In contrast to Turner, who seemed to be pre-occupied with the use of light and brightness, Constable's work showed a preference for using earthy damp colours. As a young man he started off working for his father but eventually persuaded his family to support his artistic ambitions and he entered the Royal Academy's School aged 24.This was ten years later than Turner and meant that his artistic style and success developed more gradually. He was finally elected to become a full member of the Royal Academy at the age of 52, whereas Turner had become an associate member at the age of 24 and a full member three years later.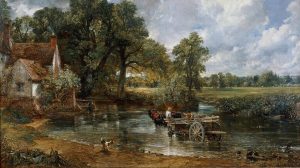 Both artists exhibited their work at the Summer Exhibition at the Royal Academy where it is a feature that the more successful the artist, the closer to eye level their picture will be exhibited. By the time that Constable started to exhibit, Turner was already well-established and so successful that his paintings held pride of place. Initially Constable's paintings were constrained to a different room but eventually, after several years, his works progressed to being displayed alongside his artistic rival. Even then Turner used some subversive tactics to ensure that his paintings retained their prominence by making changes to the pictures on-site, most notably by painting a red blob which he later turned into a buoy on one, thus encouraging visitors to pay much greater attention to his work. Clearly the painters became firm rivals.
In spite of the differences in their painting of landscapes, Turners' paintings almost imposing and grand in style, Constable's more realistic, the artists have a lot in common in the portrayal of scenes. Both were revolutionary in style. Turner was definitely a precursor to Impressionism and he clearly influenced the French Impressionists. Constable also had a strong influence on French artists who have tried to emulate his idealistic interpretation of countryside scenes.
It is difficult to say which of the two was most successful. Certainly Turner's pictures were deemed to be more valuable and he had greater success during their lifetimes, but both he and Constable have become National Treasures. It is interesting to note that in a Radio 4 poll taken in 2005 asking Art Lovers to vote for their favourite picture, Turner's picture 'The Fighting Temeraire' was at the top of the Poll and Constable's 'The Hay Wain' came second. When the poll was repeated in 2017 the roles had been reversed, 'The Hay Wain' came second and 'The Fighting Temeraire' came fourth. Of course we do have the Turner Prize and there is currently no permanent memento to Constable, but whilst Turner is to be featured on the new £20 note, Constable is featured in the new UK passport.
There is no doubt that in spite of individual preferences, the paintings of both are now amongst the most popular and valuable in British Art.