The Guggenheim Museum, Bilbao and the Architecture of Frank Gehry  by Sian Walters
ON-LINE LECTURE
The Guggenheim, designed by the Canadian architect Frank Gehry and opened to the public in 1997, is one of the most exciting and extraordinary buildings of the 20th Century, and its visual impact has led it to become a real icon of the city of Bilbao.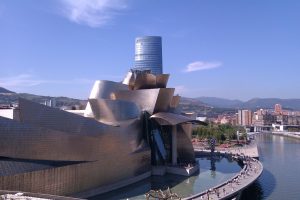 The lecture begins with an introduction to the Guggenheim foundation and how it came about , then moves on to describe the very particular circumstances that led to the commission in Bilbao. It examines the architecture of Frank Gehry using illustrations from his work in Europe and America, and describes with some beautifully detailed slides, how the vast asymmetrical, apparently chaotic and fragmented structure was created.
It also discusses the use of Titanium – the unusual and eye-catching material which is used to clad a large surface area of the building.
The lecture ends with an introduction to the collection of paintings, sculptures and installations contained within the museum, covering the permanent collection as well as providing up-to-date information on current and future exhibitions. Projects for a new Guggenheim are also discussed.
For this lecture we are delighted to welcome back Art historian Sian Walters  and many  members will remember  the excellent talk she gave to us on 'Tintoretto and the Scuola de San Rocco in Venice' in November 2017.
Sian studied at Cambridge University. She is a lecturer at the National Gallery and The Wallace Collection and has taught at Surrey University, specialising in 15th and 16th century Italian painting, Spanish Art and Architecture, and the relationship between dance and art. Sian also teaches private courses and organises lectures, study days and art holidays abroad.  Sian has lived in France and Italy where she worked at the Peggy Guggenheim Museum in Venice. Sian has had considerable experience in running Online lectures and is one of The Arts Society's top lecturers.
This will be an ONLINE lecture and we will be using the Platform Zoom to broadcast it live into your home. All you will need to do is to click on a link which we will send by e-mail a day or two before so that you can easily view the lecture. There will also be a telephone number for you to call if you have any difficulty.