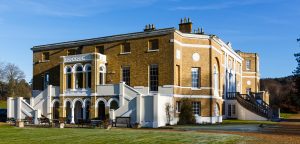 Following the success of last year's Christmas lunch at Waverley Abbey House, The Arts Society Grayshott repeated the event this December. If the audible buzz of appreciation was anything to go by then this year's lunch was even more enjoyable. For those of you who missed the occasion, Waverley Abbey House is a Georgian house boasting stunning architecture with natural light, views across  to the Waverley Abbey ruins and Grade II listed historical features.  Sadly, we missed being part of "The Mummy", recently filmed here. We were blessed to have our end of year Christmas social lunch on the day after the snow disruption which could otherwise have prevented some of us enjoying the splendid afternoon organised by Peter Crowfoot.
Our celebrations began with Jo Owen-Smith, our local author turned detective, aptly putting Grayshott on the literary map.  Famed for Lark Rise to Candleford, the writer Flora Thompson was the subject of a fascinating talk.  Many are unaware that Flora worked for a while in Grayshott Post Office in Crossways Road as a clerk and telegraphist. The official Postmaster (and murderer-in-the-making) was her employer, Walter Chapman. Sir Arthur Conan Doyle and George Bernard Shaw were two among many eminent literati who were regular customers of the telegraph service in her post office.   After leaving Grayshott, she moved to Yately and met her future husband, John Thompson, who worked for the post office in Aldershot.  After their marriage, they lived for a time in Liphook, running the local post office. Mention was made of the bust of Flora Thompson by Philip Jackson which can be seen in Liphook Library. They then moved, with her husband's job, to Bournemouth and later Dartmouth and Brixham.  In fact, Thompson's whole life was a kind of social migration. While at Dartmouth she began dabbling in journalism and published poetry.
Jo tracked Flora Thompson's life from birth through employment and two World Wars; failed fiction writer to a recognisable Landscape and nature notary.  First and most obvious were the well-known true identities behind the pseudonyms which Flora Thompson employed within her writing to hide the identity of the people and places she encountered.  Lark Rise to Candleford, regarded by many as a masterpiece, was originally published as a trilogy between the years 1939 and 1943, just four years before the author died.  Since Oxford University Press, the publisher to which Thompson submitted her manuscript, didn't "do" fiction, Lark Rise was rebranded as autobiography.
Flora described Grayshott as "a mixed population of shopkeepers, holidaymakers, retirees and bohemian artists".  Has much changed, you may ask?
After the talk, we enjoyed mulled wine in the lounge before indulging in a splendid lunch in one of the Waverley Abbey function rooms. Our chairman, Derek Linney celebrated a year that had included a successful lecture and visit programme, an updated contemporary website and the change in the Society's name in alignment with The Arts Society rebranding. There had also been a hugely enjoyable tour to Italy.
The lunch was a fitting end to The Arts Society Grayshott's year.
More photographs can be found in the photo gallery.