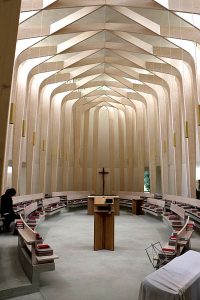 Our visit includes a visit to the award winning Chapel named after Edward King before continuing to the Ashmolean Museum, followed by a guided walking tour in the centre of Oxford. (Travel by coach) Booking February and March.
Travelling by coach, our first port of call will be at Ripon College in the village of Cuddesdon, just outside Oxford. Ripon is a theological College and the focus of our visit is their award-winning Chapel named after Edward King, a Principal of the College in the C19th and later Bishop of Lincoln. The Chapel, first described to us by Anthea Streeter, during our Day of Special Interest on modern British architecture, won numerous awards in 2013. Before our visit we will have coffee and, provided their schedule on the day permits, an introductory talk from one of the Sisters of the religious community.
Our coach will then take us into the centre of Oxford for our self-guided visit to the Ashmolean Museum, and its world famous collections of archaeological artefacts and fine art. The Museum includes paintings by Renaissance, Pre-Raphaelite and Impressionist masters and major collections of Ancient Greek, Minoan, Egyptian and Nubian artefacts, alongside items as varied as the exquisite jewel made for Alfred the Great, Oliver Cromwell's death mask and Lawrence of Arabia's ceremonial Arab dress. After lunch, we will have a guided walking tour in the centre of Oxford, giving us the opportunity to learn more about its historic and beautiful buildings and also to compare and contrast their architecture with that of the Edward King Chapel.