Over one hundred and thirty people tuned in to the May lecture when archaeologist Julian Richards enthusiastically gave his talk 'Inspired by Stonehenge' – a subject which started as a project in the 1980's and has fascinated him ever since.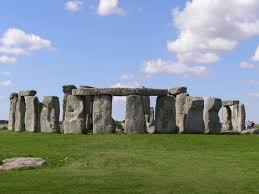 Julian explained that Stonehenge is unique as a prehistoric monument even though it isn't the oldest or biggest. It is special because it has architectural features not seen anywhere else in the world including iconic interlocking lintels and stones which have been smoothed and shaped. The stones were not sourced locally, as is the case with most stone circles,  Stonehenge's  bluestones and sarsens  were brought from the Preseli Hills and the Marlborough Downs, distances of  120 and 20 miles respectively.
There were several periods of construction and over time various stones have fallen or are missing making the original plan difficult to understand. Whilst there are numerous theories, there are no clues and no written record or verbal description as to how or why Stonehenge was actually built. However, the fact that the lintels are locked onto the stones by joints and also locked end to end, as well as being level, highlights what a complex and extraordinary feat of engineering building the monument was.
Julian went on to talk about some of the theories as to why it was built including as a burial ground – there is evidence that Stonehenge was used as this during its first three centuries, a Druid Temple and a cult centre for healing. The fact that the main axis of the stones is aligned upon the solstitial axis is fascinating too.
At midsummer the sun rises over the horizon to the north-east close to the Heel Stone. At midwinter, the sun sets in the south-west, in the gap between the two tallest trilithons, one of which has now fallen.  This would have been important to the prehistoric people who built and used Stonehenge.
Over the last two centuries this iconic structure has inspired painters, potters and poets. Blake, Constable, Turner and Moore are amongst those who have been drawn to this magnificent ruin
resulting in a wide range of images and impressions some of which were shown in the presentation.
Finally we looked at Stonehenge as a global icon and how its instantly recognisable stones now grace tea towels in Wiltshire, phonecards in Japan and stamps in Bhutan. Julian also talked about the range of souvenirs that are available for Stonehenge and we were given some insight into his own very extensive collection which he sometimes exhibits.
Jackie Bearman