On 16th July, Art Historian Stella Lyons delivered her online lecture on Norwegian Art to an enthusiastic online audience of eighty people . "Dreams of a Summer Night: The Golden Age of Norwegian Painting', explores how Norway's artists led the way to the changing perception of their country'.
Renaissance Europe thought that Norway was a freezing wilderness, a place of night stalked by trolls with huge sea serpents living in the fjords.
This belief was partly due to a text by Olaus Magnus, who wrote "A Description of Northern Peoples' in 1555. Hoping to educate Europe about the richness and customs of his homeland, the priest's plan backfired as his nightmarish illustrations of wastelands, haunted by witches and monsters, turned people against Norway. This perception continued for centuries – Norway was even excluded from Kenneth Clarke's 1969 programmes 'Civilisation'.
Art of the Nordic country was pretty much unnoticed until quite recently. Attitudes began to change when the greeting card industry opened our eyes to the wonderful paintings of Scandinavia. In the last decade, museum curators have started to reinvestigate Scandinavian art and several exhibitions focusing on the works of Norwegian artists: JC Dahl, Peder Balke, Nikolai Astrup and Harald Sohlberg, have led to Norways' art being increasingly admired.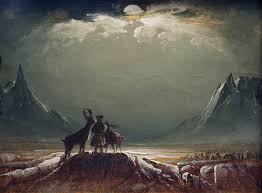 Norway's Golden Age of Art took place in the 19th Century which was very late in comparison to the rest of Europe. This was largely due to the fact that there were no National Art Academies in Norway and artists had few opportunities to exhibit and sell art, so travelled to other countries to do their training often remaining there. It was also due to the fact that prior to the 19th Century, beautiful, wild landscapes were feared rather than admired, as the perception of beauty at that time was considered to be something cosy and safe. In the 19thCentury ideas changed and the 'Sublime Landscapes' of towering mountains, stormy seas, avalanches and volcanoes, prevalent in Norwegian Art, became popular.
JC Dahl (1788 – 1857), known as the father of Norwegian art, travelled to Copenhagen to hone his skills. Dahls's landscape paintings of his homeland are vast, majestic, beautiful and profound reflecting his search for a national Norwegian identity. In 'View From Stalheim', his national pride is very clear, sunlight erupts through dark clouds into the fjords and the scene includes images of people showing the Norwegian lifestyle.
Dahl was instrumental in founding the National Gallery of Norway and the Norwegian Art Association.
He influenced such painters as Adolph Tidemand (1814-76) and Hans Gude (1825-1903) who collaborated to portray the traditions of Norway, 'Bridal Procession on the Hardangerfjord', their best known work, showing a joyous Norwegian celebration.
Peder Balke (1804-87), probably Dahl's most memorable pupil, painted brooding and formidable scenes in the North Cape e.g. 'Sami Reindeer Under the Midnight Sun' and was the first artist to attempt to paint the Northern Lights.
Towards the end of the 19th century, Neo- romantic artists continued Dahl's nationalist agenda by painting their homeland in more symbolic and romantic works.
This group of artists, including Oda Krogh, Eilif Petersen and Edward Munch was known as the Fleskum Colony and the themes of twilight and summer light were prevalent. The most iconic work to come out of this movement was 'Winter Night in the Mountains' by Harald Sohlberg .
Sohlberg led the way in 'mood painting' the emphasis of the work being about feeling and not form. Nikolai Astrup was also fascinated by the light of the summer evening. He painted his homeland in lurid colours. His picture 'Midsummer Eve Bonfire' is imaginative and visually appealing once again depicting local customs.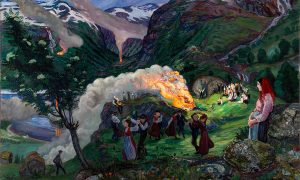 By the end of the 19th Century, Norway had experienced its Golden Age in Art, a turning point putting Norwegian Artists on the art historical map. Sixty years separated 'Bridal procession' and Astrup's painting but they both celebrate Norwegian culture, ritual festivals and the mountainous natural landscape. Norwegian art is now seen as an area of developing interest amongst art historians. Finally the perception of Norway is changing and it is no longer thought of as a landscape dominated by witches and sea snakes.