It is traditional for our December meeting to have a Christmas theme and this year's talk 'Dickens of a Christmas and 'God Bless Us Everyone!' by the ever popular Bertie Pearce was no exception . With a BA (Honours) in Drama from Manchester University and having studied at the prestigious Ecole Internationale du Theatre Jaques Lecoq in Paris, Bertie has performed all over the world and is both a seasoned Art Society Lecturer and a member of the Inner Magic Circle. It is therefore unsurprising that the online audience were treated to an energetic and lively talk which contained some superb characterisations and thrilling magic tricks.
Charles Dickens was a man of extraordinary energy and talent: literary genius, social reformer, public speaker and amateur magician.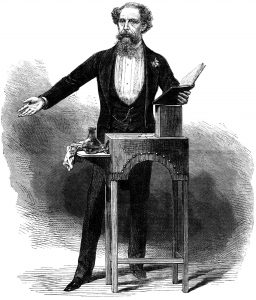 However, he was haunted by his experience of childhood. His father, John Dickens, was an extravagant man who lived beyond his means, leading to bankruptcy and subsequently debtors prison. The twelve year old Dickens was sent out to work for ten hours a day to help support the impoverished family and was thoroughly miserable. Later, when his father came out of prison, his mother made him continue to work and Dickens never forgave her. He is quoted as saying 'The poor do not have a childhood – it must be bought and paid for'. He was also appalled by the condition of the children working in the mines and this was the starting point of him becoming a social reformer.
In spite of his childhood, the largely self-educated Dickens possessed the genius to become the greatest writer of his age. He was twenty one when he had his first sketches published and their  success inspired him to write more, ultimately producing fifteen major novels and numerous short stories and articles, many of which highlight the social injustices of the time.
Bertie told how Dickens has often been proclaimed as 'the man who invented Christmas', and indeed, on hearing that Dickens had died, a cockney barrow girl said: 'Dickens dead? Then will Father Christmas die too?' 
Dickens revived the Christmas traditions with his warm portrayal of Christmas in the domestic setting: with plum pudding, piping hot turkey, games and dancing and family cheer by the hearth. Although he celebrated Christmas in numerous works, it is his immensely popular masterpiece 'A Christmas Carol', published on the 19th December 1843, which immortalised the spirit of Christmas Cheer.
Bertie led the audience through Dickens' life and along the way read numerous extracts of his works, skilfully re-creating the voices of many of the wonderful characters. Dickens created almost two thousand characters most of which were based on people that he had actually met. Highlights of the talk included Bertie's expertly performed conjuring tricks which Dickens, an amateur magician himself, may have seen and enjoyed in his lifetime.