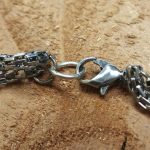 By Rosemary Ransome-Wallis
This lecture traces the origins of contemporary silver from 1900 to the present day, focussing on the unique role of the Worshipful Company of Goldsmiths, London, and its renowned collections. The current creative vitality of design and craftsmanship is richly illustrated.
Ransome Wallis, is Curator of the collection of the Worshipful Company of Goldsmiths, the principle patron of contemporary silver and jewellery in the UK, with a unique and internationally renowned private collection housed at Goldsmith's Hall in the City of London.
She is also the author of Treasures of the Twentieth Century (Goldsmiths Hall 2000), advisor to the Silver Trust for Downing Street, Freeman of the City of London and Liveryman of the Goldsmiths' Company.