Graphic designer, writer and broadcaster Mark Ovenden gave us a fascinating online overview of aviation posters and maps in his talk 'Around the World in Stunning Aviation Posters', reminding us of the pleasures of travel.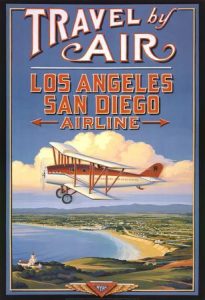 WWI led to great advances being made in aviation technology, so by 1919 the first scheduled international flights began. Airlines needed to show an initially wary public where their services ran and in so doing created some of the most beautiful and iconic travel posters.
Mark showed a beautiful poster offering a flight for up to two people from Hounslow Heath Aerodrome to the edge of Paris, made for a company called Aircraft Transport and Travel, one of the many components that later went on to form British Airways. The journey was in a converted wartime De Havilland bomber which featured in the poster. This really was the start of international commercial air flight.
The audience went on to see an array of glamorous and colourful early posters. Notably, the Belgian company Sabena, made beautifully illustrated postcard maps which made no apologies for featuring an entirely female crew, as women played a very important role in early aviation.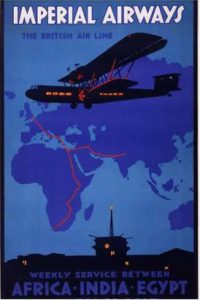 Advertising routes became a big driver of travel poster production from the late 1920s onwards and examples of posters were seen from several major airlines including Lufthansa and Pan Am, many of the latter's having become sought after collectors items.
One particularly prolific company for printing colourful publicity material was Western Air Express who produced some beautifully illustrated maps by Ruth T. White. The maps were the first to feature cartoon type vignettes at each location including illustrations of iconic land features, animals and people. This style started a trend in poster design for the next half century.
From Art Nouveau images of the colonies, Mark went on to lead us through Art Deco streamlined planes, to satellite images of the planet. This world-wide journey was a visual delight and inspired dreams of far flung destinations in vivid colours and styles.