Louise Schofield, a Professor of Archaeology from the American University in Rome, returned to The Arts Society Grayshott in early February to speak to us about her travels and archaeological finds in Albania.
Albania was home to the Illyrians, Greeks, Romans and Venetians so is rich in archaeological treasures which are now only recently being excavated by teams of Albanian archaeologists.
Louise, despite her mother's concerns about her working in a country with such a reputation for violence and corruption, went there in year 2000 until 2006 as part of the Jacob Rothschild foundation.
Albania was part of the Ottoman Empire until 1912 when Prince William of Wied became "king". He left in September 1914 and then followed much political confusion. King Zog came into power in 1928 until 1939 when he was deposed by coup d'etat. Albania then fell to Stalinist communist power under the dictatorship of Enver Hoxha. Dictatorship led to Concrete bunkers being set up on Butrint beaches to prevent the people defecting to nearby Corfu only a short swim away. Albania remained a very under-developed county with much poverty and lack of skilled workers. Old cars could not be repaired because of a lack of mechanics so the chassis were pulled by donkeys! A bridge comprised old railway sleepers tied onto old oil drums. In 1991 Albania declared independence after a student revolution.
The main archaeological sites for excavation are in the Butrint National Park. A beautiful unspoilt area renowned for its diversity of flora and fauna, it is a very marshy place so has a wide population of frogs, terrapins and tortoises. In 1992 it was declared a World Heritage Site by UNESCO.
Excavating is being carried out at the ancient Roman theatre there and magnificent mosaics are also being restored.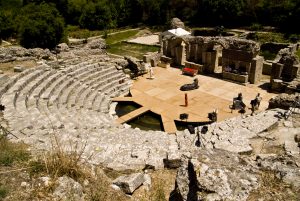 Like many Roman and Greek theatres, the theatre was built on a natural slope enabling tiered seating to be organised.
Work is also being carried out at the Baptistry, an early Christian church from 5thC AD. Louise showed interesting slides of these sites and also the Venetian fortress.
The talk continued with Louise showing pictures of the Zekate house, a fine example of fortified tower houses owned by the wealthy people in the 19th Century. Louise's work there has definitely helped it to gain UNESCO World Heritage status.
Louise returns to Butrint every year and is delighted that the excavations are being continued by her old Albanians students from East Anglia. A recent discovery is of wine amphoras. Albania holds may rich historical treasures which hopefully will be revealed in it's now more stable society.
At our next meeting on Thursday March 5th, Timothy Walker will talk about 'The Healing Power of Plants'. This lecture will consider how mankind has exploited the medicinal properties of plants for thousands of years and yet the role of plants in modern medicine is still considered to be peripheral by many people. Timothy will attempt to put the record straight and show that plants are used every day by all of us to relieve pain and suffering, to heal wounds and cure diseases.