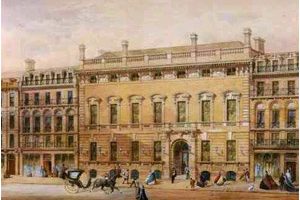 Guided tour of the Garrick Club and its world famous collection of art, sculpture and memorabilia related to the theatre. Led by Frances Hughes.
Plus
Either Guided tour of Freemason's Hall in all its Art Deco magnificence, with a visit to its library and museum
Or Backstage tour of the Royal Opera Huse, Covent Garden, learning about its history and the techniquwes used to stage productions with the possbiity of seeing the Royal Ballet in class.
Private tour of The Garrick Club (normally Gentlemen only) to see their unrivalled collection of art related to theatre. Named after the famous C18th actor, David Garrick, The Garrick Club was founded in 1831. Nearly all our most distinguished actors have been members. Members have also included many writers and artists such as Dickens. J. M. Barrie, Elgar, Rosetti and Millais. The Club houses the world's largest collection of art and memorabila relating to the theatre, including over 1000 paintings, drawings and pieces of sculpture. After coffee, our tour will take in all the main rooms and finish in the Theatrical Library.
The present Royal Opera House dates from 1858, two earlier theatres having been destroyed by fire. It had an extensive and imaginative renovation and extension in the 1990's. A further project to improve the front of house areas has recently begun. Each backstage tour varies depending on the demands of the productions at the time so there is no guarantee of seeing everything but we should gain a fascinating insight into the history and development of the Opera House, the technology and techniques used and, with luck, have a chance to see the Royal Ballet in class.
Freemason's Hall is one of England's finest Art Deco buildings. Richly decorated, it is often used for TV and film locations. Built as a memorial to those who died in the World War 1, it is the HQ of the United Grand Lodge of England and a meeting place for many of the London Masonic Lodges. The museum includes objects belonging to famous Freemasons such as Winston Churchill and Royal Freemasons such as Edward V11.