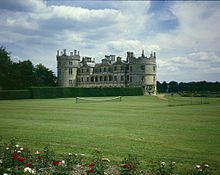 Private tour of Longford Castle, garden and its important art collection, for which it has a special relationship with the National Gallery. Afternoon in Salisbury with the option to visit Arundells, the home of Sir Edward Heath, with his collection of art, artworks and memorabilia.
Longford Castle, the home of the Earls of Radnor, by the River Avon, near Salisbury is one of Britain's grandest houses. Originally built in the late C16th to an unusual triangular plan, it was owned since 1717 by a family of Hugenot origin, the Bouveries. The first Earl was created in 1765, the second Earl employed the architect James Wyatt to transform the Castle into an hexagonal palace but the work was not completed until the fourth Earl employed the celebrated Victorian architect Anthony Salvin.
Longford is famous for its art collection which includes paintings by van Dyck, Brueghel the Elder, Claude, Teniers, Hals, Reynolds and Gainsborough as well as oriental porcelain, Brussels tapestries and exceptional C18th English and continental furniture. It has a long  association with the National Gallery to which some important pictures such as Holbein's Erasmus are on loan.
After lunch in Salisbury there is the option of taking a tour of Arundells, the home of Sir Edward Heath. The house, dating back to the C13th, was remodelled in the C18th and reflects Heath's time in public office. It contains his collections of paintings,including works by Singer Sargent, Churchill. Sickert, Augustus John, Nash and Lowry, sailing and musical memorabilia, ceramics, cartoons, bronzes, Chinese and Japanese artworks and photographs. It is surrounded by a beautiful, medieval, 2 acre walled garden.
Arundells is in the close of Salisbury Cathedral and, if you wish, there should be time, before or after touring Arundells, to pay a short visit to the Cathedral or the National Trust's Mompesson House. However, if you prefer, the afternoon can be spent seeing those and/or exploring more of historic Salisbury.