Home to the Dukes of Marlborough and Churchill's birthplace, Blenheim is one of England's greatest houses. During our visit there will be a talk and tour as well as time to enjoy the gardens and parkland designed by 'Capability' Brown.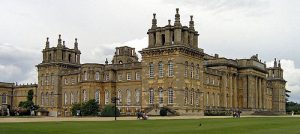 Travelling past Oxford to Woodstock, our coach will turn into the magnificent parkland with its hills, lakes and trees surrounding the Palace. This is the famous work of Lancelot 'Capability' Brown. 2016 is the 300th anniversary of his birth and our April lecture by Dr. Twigs Way will give a valuable prelude to this visit.
The land on which Blenheim sits was the gift of Queen Anne to John Churchill, the 1st Duke of Marlborough; after he successsfully led the Allied forces to victory over the French at Blenheim, in the war of the Spanish Succession. The Palace, designed by Sir John Vanburgh, was built between 1705 and 1733. 'Capability' Brown oversaw the complete redesign of 2000 acres of Parkland between 1764 and 1774. Sir Winston Churchill was born at the Palace 100 years later in 1874. Today the Palace is a UNESCO World Heritage Site.
On arrival, we will go first to the Marlborough Room for some refreshments and a specially arranged talk from an expert about The Ladies of Blenheim. These range from the passionate and sometimes irrational first Duchess, Sarah to Consuela Vanderbilt, American railroad heiress and wife of the 9th Duke. Then we will have a private, guided tour of the Palace State Rooms.
The rest of the day will be free for you to see other parts of the Palace and explore the Parkland and Gardens at your leisure.. On the day, there will be other tours available to book, if you wish. These include a Buggy Tour around the Queen Pool for those who are less mobile. The Palace has several cafes and restaurants for lunch or bring a picnic, if you prefer.