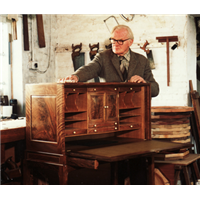 The Edward Barnsley Workshop at Froxfield is set high up on the hills a couple of miles outside Petersfield, with far-reaching views over the woods to the South Downs.for nearly 100 years it has been home to craftsmen making the highest quality wooden furniture. The workshop is small and access limited so members shared cars to drive there. Then one group visited before and one after an enjoyable lunch together at the nearby Trooper Inn.
Stephen Rock showed us around the workshop and described its history and function.Edward Barnsley (1900-1987) was born into a furniture-making family. His father, Sidney and uncle, Ernest made furniture in The Cotswolds and were key figures in the Arts and Crafts tradition. Edward went to Bedales School and in 1923 had the opportunity to take over the nearby workshop of Geoffrey Lupton, with whom he had worked. Barnsley became one of the most influential furniture makers of the C20th.
As well as carrying out commissions for bespoke furniture, the craftsmen in the workshop have, since 1980, trained apprentices, funded by the Edward Barnsley Educational Trust, of which NADFAS is one sponsor. Each year two apprentices are taken on, normally for a two year period. Apprentices have gone on to become highly respected furniture makers all over the UK and as far afield as Finland, Japan, Australia and New Zealand. James Ryan, the workshop manager also designs all the furniture and Stephen, the craftsman who tutors the apprentices, were Barnsley apprentices.
Stephen started by showing us the stocks of wood that have to be sourced and seasoned . Some of the rarer types date back to the days of Barnsley himself. Then, in the workshop, we saw different woodworking techniques in use and got some sense of the deep understanding that craftsmen need of different woods, how they behave and the skill and patience needed to work to the finest of tolerances.
We saw some wonderful examples of the commissions the workshop receives from all over the world. These ranged from chairs, tables and desks to smaller items such as jewellery boxes, candlesticks and hand mirrors. A bureau, designed and made by Edward Barnsley was breathtakingly beautiful and the epitome of intricate craftsmanship. A pair of large display cabinets, decorated with beautiful starburst inlays, had been recently completed by senior craftsman, Joe Orchard, for an American collector of early banknotes. Everyone at the workshop had contributed to a large commission for over 100 specially designed chairs for the dining hall of an Oxford college.
It was a fascinating and enjoyable visit with the prospect of returning on one of the workshop's three annual Open Days.