For a couple of days it looked as if we might have to postpone our trip to the glassblowing studio because of expected snow. Luckily, the forecast improved and we were able to enjoy a very successful outing and get home safely, well before the snow eventually came. You can see more photos here.
Those who were able to come to th
e pub lunch beforehand, enjoyed a good meal, in good company, at The Queen's Head, East Clandon. Then, it was a short drive to Adam Aaronson's studio, in West Horsley where we met up with the rest of our group. Navigating down a track, past some rundown old glasshouses, doesn't immediately suggest a place were we would find exceptional craftsmanship producing beautiful glass art. However, that was exactly what we discovered!
Seated with mugs of tea and coffee, in front of an array of furnaces, benches and tools and with marvellous arrays of glass art ware all around; we were glad we had wrapped up warm for the weather because, despite the high temperatures in the furnaces, some external draught is needed for their operation.
Adam began by telling us about his career, starting with helping in his family's London art business and then making, exhibiting and selling his own glass art. At one point, he moved to Norfolk but then settled in Earl's Court for many years until developers forced a move to his present studio. Here, he developed his interest in teaching and now runs many successful courses, especially at weekends.
Assisted by two of his glassblowing staff, Will and Gina, Adam showed us different tools and techniques for making glass art. We learnt about the plain and coloured glass materials they used and watched them working so adeptly with the hot molten glass, blowing pianissimo when needed and using different tools to shape the glass, even including a wad of wet newspaper. We were quite transfixed.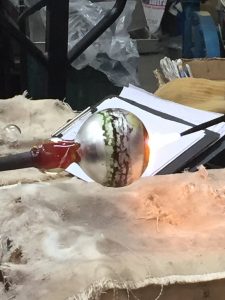 First Adam made a 'simple' paperweight, showing us how those colours and bubbles were trapped inside. Then, a beautiful long necked vase with flattened sides, swirling colour patterns and lustrous finish, evolved. Finally, he made a lovely bowl, demonstrating the application of silver leaf and the use of a variety of different colours to achieve a landscape or seascape effect.
Adam is at the forefront of glass art in the UK and is often commissioned to produce major pieces. A notable example was when he worked with designer Mary Branson, to produce 168 unique glass discs for her 2016 'New Dawn' artwork, in the Houses of Parliament, commemorating Women's Suffrage. Several of our group remembered marvelling at that remarkable light sculpture, during our guided tour of the Houses of Parliament, just over a year ago.
A memorable outing indeed and, inevitably after such a wonderful experience,  some members came away having bought tangible proof!