It was a fine and warm day for our trip to Wiltshire – just as well as our coach was held up arriving at Grayshott, so we left late. But our driver still got us to Roche Court Sculpture Park near Salisbury on time.  We had a warm welcome from our two guides, Beth and Jenny, and filled up on coffee, tea and home-made cake before our tour.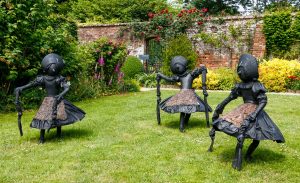 Roche Court is a privately owned stone manor house dating from 1804 with lovely gardens and grounds and wonderful views. A changing exhibition of more than 60 world class sculpture, ceramics and other art works is showcased through the grounds, and in the Artists House and gallery, by the New Art Centre, while the Roche Court Educational Trust works with schools, colleges, universities and special interest groups to promote the enjoyment of looking at, discussing and analysing art.
Our tour introduced us to a wide range of sculpture skilfully worked in different mediums. Some had readily recognisable subjects like Barry Flanagan's joyful hares, Laura Ford's dancing clog girls or Craig-Martin's wheelbarrow, (as if drawn in the air); others were abstract like Conrad Shawcross's many faceted and on closer inspection semi-transparent steel Monolith, or Nigel Hall's Gravity/Levity, changing with the observer's viewpoint. All were thought provoking.
Further treats awaited in the Artists House, architecturally inspired by Kettle's Yard in Cambridge, and the gallery. Here there were early ceramics by the renowned ceramicist and author (especially The Hare with Amber Eyes) Edmund de Waal and an installation of textiles, ceramics and more by Kate Blee. We particularly loved her use of bright splashes of colour in her textiles and the whimsicality of her domestic installation, whose central features were two tables with ceramic napkins cleverly created in rough folds as they would be when the diners had finished.
The New Arts Centre is open to visitors daily between 11 and 4. Just turn up and ring the bell! You can find out more at http://sculpture.uk.com/.
Another warm welcome awaited us when we went on to Wilton House, where we also had lunch. Many of us opted for the buffet lunch which was really excellent and good value. Then we had the afternoon at leisure to explore the house and gardens. A monastery was founded on the site in the 9th century but dissolved by Henry VIII. He gave the estate to William Herbert, first Earl of Pembroke, whose descendants have held it ever since. Originally more than 40,000 acres, the estate still today has some 14,000 acres.
The Tudor house built by the 1st Earl, possibly to a design by Hans Holbein the Younger, was substantially changed in the 17th C when the 4th Earl brought in Inigo Jones. The resulting Palladian style dominates what we see today. In addition to the magnificent state rooms and the cloisters, overlooking the central courtyard, we were also fortunate to be able to see the, normally private, library used by the family as their drawing room and two further rooms, one with an impressive collection of early drawings, including several by Rafael. Indeed the whole art collection was splendid with many works by Dutch masters as well as for example, Tintoretto, Reynolds, Gainsborough, Lely and more. Several examples of Thomas Chippendale's work were to be seen in this 300th anniversary year of his birth.
The extensive grounds border the river, with its romantic Palladian bridge, and afforded us a very enjoyable stroll. The highlight was undoubtedly the rose garden, with beautiful, mainly old English, roses at their flowering peak and heavy with scent. There were further opportunities to visit the current Earl's collection of classic and supercars, an exhibition of Cecil Beaton photographs and a film with Anna Massey about the history of the house. Some members also visited the stunning Italianate church in Wilton – and many of us found our way back to the restaurant for that much needed cup of tea before boarding the coach for home.
You can see more photos from our visit here.