By Brian MacDonald
Brian MacDonald will take us on a journey beginning in Outer Mongolia in the C5th BC and follow the C11th migrations from Turkmenistan, the cradle of weaving, into the Caucasus, Persia and Afghanistan.He will introduce the nomadic tribes of these countries and their woven rugs, carpets and dowry bags with particular emphasis on those of the C19th and earlier. These tribal weavings illustrate the skill of the women who produced exquisite works of woven art, using vegetable colours and age-old designs whilst living and travelling in primitive conditions and hostile landscapes.
The lecture explains how these rugs were made, the materials used and makes comparisons between natural and chemical dyes. The lecture will illustrate how, around 1900, nomadic tribal weaving began a swift decline, under the demands of commercialism, with the use of mechanical designs and chemical colours. By the 1930's it had virtually ceased to exist in its spontaneous form.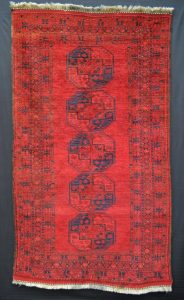 The tribal weavings of the C19th and earlier represent the pinnacle of achievement and the wonderful free expression of the art of the weaver. Today, these weavings are highly desirable and collectable works of woven art.
Brian MacDonald has been a dealer and consultant in antique oriental rugs and carpets since 1979, after his return from Iran. He is the author of Tribal Rugs – Treasures of the Black Tent which was originally published in October 1997; reprinted in April 2010 and a completely new updated edition is due out by the summer of 2016. Brian is one of the few Western dealers to have lived and worked among tribal groups in remote areas of Iran and Afghanistan during the 1970s and then again, after the Iranian Revolution, in the 1990s. In 1990 he was elected a fellow of the Royal Geographical Society for his work amongst the Persian tribes. He has been a NADFAS lecturer since 1986.