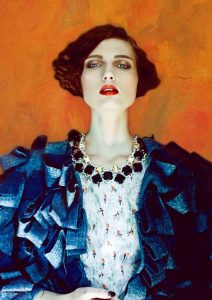 Frequently our lectures give an invaluable background to forthcoming visits. This was certainly true for our first meeting of 2018 when Ann Clements gave us a brilliant exploration of the range of Klimt's work and the evolution of his style.
Born in July 1862 into a relatively poor family, at 14 he went to the Vienna School of Arts and Crafts where the emphasis was on the Old Masters. Ernst, his younger brother, also enrolled there and, working together with a friend, they received commissions and called themselves the 'Company of Artists'. The mid C19th saw the construction of the Vienna Ringstrasse and an accompanying massive building programme of public buildings and private mansions. This offered a tremendous opportunity for artists. The 'Company' painted two ceilings and staircases at the Burgtheatre to show the development of theatre from Ancient Greece to the C17th. In 1892 after his father and then Ernst died, he assumed responsibility for both families. His style changed as he reacted against the tradition of religious, historical and allegorical painting.
At 35 he became the President of the Vienna Secession. It aimed to exhibit the works of young Viennese and the best foreign artists. 58,000 went to its first exhibition in 1898 where 131 foreign and 57 Viennese painters exhibited. It was so successful the government leased it land for a new building that critics dubbed 'a gilded cabbage'! He painted an unconventional version of Pallas Athena, the group's symbol. In this and Judith, probably inspired by his visits to Venice and the Ravenna mosaics, he used gold leaf. However, three paintings commissioned for the university caused such an outcry, Philosophy even being debated in parliament, they were not displayed and became his last public commission.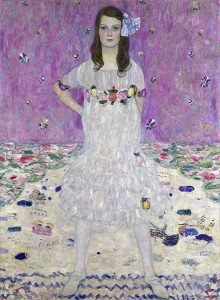 He became Vienna's most expensive artist. Never short of patrons, he accrued great wealth from his portraits. His sister-in-law Emily became the most important woman in his life although 14 paternity suits followed his death of which 4 were upheld. In many of his portraits the head is realistic but the body, often in silver and gold, is almost 2 dimensional. The Kiss, his best-known work, is swamped by the heavy use of gold and mosaics. Later he would abandon gold and adopt brighter colours to emphasize texture.
His landscapes fetch particularly high prices. Only 15 survive from 1897-1902. Usually set in the foothills of the Austrian Alps, their high horizons and absence of figures emphasize stillness and peace. In 1919, recovering from a stroke, he died of flu.
He left no 'School'. His greatest influence was on Schiele who died 6 months later. To some he was the 'artist in a cul-de-sac' while he thought the 'young don't understand me they're going somewhere else'. Painting in a smock, sandals and no underwear, partly inspired by the English Arts and Crafts movement, Art Nouveau and a love of Baroque, with a love of costume; he sought to link old to new. He provoked scandal and admiration in equal proportions. To some he was ugly, incomprehensible and obscene. A very private person, uninterested in self portrait, with a paramount interest in painting women, he advised 'Whoever wants to know something about me….ought to look carefully at my pictures'. That is something we intend to do during our tour to Vienna later this year.
At our next meeting on Thursday February 1, at 2pm in Grayshott Village Hall, Anthony Russell asks 'Who was Tutankhamun?' and discusses many of the fabulous finds.
For more information please contact Caroline Young on 01428714276.