by Helen Hillyard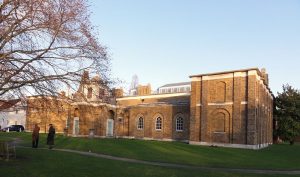 This year marks 200 years since Dulwich Picture Gallery first opened to the public as England's first purpose-built public art museum.. Pictures, hitherto usually only seen within aristocratic circles, were brought into the public sphere for the first time. In the words of the Gallery's founder, Sir Francis Bourgeois, masterpieces by some of the greatest European Old Masters were made available 'for the inspection of the publick'.Since then the Gallery has welcomed a wide range of visitors; from local residents to crowned heads of state, from John Ruskin to Van Gogh. This lecture explores the origins of this important collection; looking at its paintings, architecture and key players, from the C18th to the present day.
Helen Hillyard is Assistant Curator at Dulwich Picture Gallery. She has curated the display series 'Making Discoveries' and has overseen the editing and production of the 'Dutch and Flemish Paintings Catalogue' (D Giles 2016). She is currently developing the curatorial programme for the Gallery's bi-centenary. Previously, Helen was the National Gallery Curatorial Trainee supported by the Art Fund and worked wih Birmingham Museum and Art Gallery to curate a rehang of the C17th European Art Galleries. She has also worked at the National Maritime Museum and Garage Museum of Contemporary Art.
Ahead of our society's visit to the Gallery in April, the lecture will end with some preliminary detail on the upcoming temporary exhibition, 'Vanessa Bell 1879-1961', which re-evaluates the work of this important modernist painter and central figure of the Bloomsbury Group.