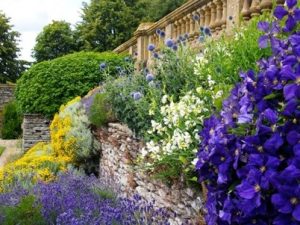 At this month's meeting James Bolton began by describing what was happening in English gardens in the 1850's. With omnipresent parterres, an abundance of annuals and perennials, exotics from across the globe and the essential multitude of gardeners; a garden was the way to display the wealth and status of the owner. Like the Arts and Crafts Movement, Lutyens and Jekyll reacted against this.
In 1889 Lutyens, working at Crooksbury on his first commission met Jekyll, an 'amateur' in a professional male world who had designed the garden of Munstead House, her mother's home. She was firm about materials and where they came from, she drew his attention to detail, whether for a doorway or a light switch and he created the house she wanted at Munstead Wood. In turn she would create the garden landscape for his commissions.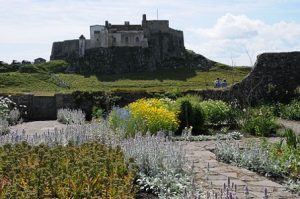 The Chances saw Munstead Wood, 'a house of unimagined beauty and charm' and had Lutyens design Orchards, a 'grown-up' version of Munstead Wood. At Bois des Moutiers, with oriel windows, timbers and astute details, he transformed an indifferent seaside villa while she designed the garden. Even when she became very blind, clients would send dimensions and soil samples and she would send back a planting plan and list. Deanery Garden with its cut stone, herringbone bricks, steps and levels, built by Lutyens with gardens planted by Jekyll, for Edward Hudson, proprietor of Country Life, featured in the magazine. In 1901 Hudson acquired Lindisfarne Castle. Lutyens refurbished it and Jekyll brought plants from her own garden.
A house designed by Lutyens with a garden by Jekyll became the dream of their 'new money' clients from the City such as Herbert Johnson at Marsh Court. At Little Thakeham, the characteristic Lutyens exterior is in contrast to the 'Wrenaissance' interior, illustrating his move away from Arts and Crafts to his version of the Baroque. He remodeled Abbotswood, Great Maytham Hall and Great Dixter and it is hard to decide what is original. The Viceroy's House in New Delhi represented only part of his designs there. He designed Jekyll's family monument and many war memorials in France and England including The Cenotaph.