A morning guided tour of Chelsea's famous physic garden, with 5,000 medicinal, edible, herbal and other useful plants. Afternoon guided tour of the Royal Chelsea Hospital, designed by Sir Christopher Wren and home since 1692 to more than 300 army veterans, the Chelsea Pensioners.
Travel by Coach from Grayshott. Booking from end of May 2020. Note that the date cannot be confirmed until the end of May.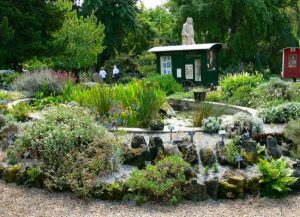 Set on four acres of land by the Thames, Chelsea Physic Garden was first established in 1673 by the Apothecaries in order to grow medicinal plants. Its primary benefactor was Sir Hans Sloane, a famous physician, naturalist, collector and founder of the British Museum. We will have a guided tour of this extraordinary garden, which has had a wide reaching impact around the world. Our visit will complement Timothy Walker's lecture earlier in the year on The Healing Power of Plants.
After time for lunch, we will visit the Royal Chelsea Hospital. In 1681, Charles II issued a Royal Warrant authorising the building of the hospital to care for soldiers 'broken by age or war'. He commissioned Sir Christopher Wren to design and erect the building and Sir Stephen Fox to secure the necessary funds. It was completed in 1692. We will have a guided tour, including the Great Hall, Wren Chapel and Figure Court, and learn about the history of the hospital and what life is like for today's veterans. We hope that our tour will be led by one of our members, and former Membership Secretary, Geoff Douglas-Hiley, who is now himself a Chelsea Pensioner.