Our 2020 tour will take us to the great palaces and rich art galleries of Munich,  plus two of the beautiful castles and palaces built by KIng Ludwig II of Bavaria – Linderhof and the fairytale castle of  Neuschwanstein.  We will be based for three nights in Munich and three in Füssen, a picturesque small town on the edge of the Bavarian Alps.
The tour will include a day at the Passion Play, performed every 10 years by the villagers of Oberammergau, in the Alps in southern Germany. It fulfills a vow made by their ancestors in 1634 when the plague sweeping the village came to an end.  Now internationally famous, performances of the Play attract audiences from all over the world and are booked up a long time in advance. Hence we have had to reserve places nearly three years ahead.
In order to confirm that we have the minimum numbers necessary, we ask members to book as soon as possible.  But deposits are refundable, in the event of a change in your circumstances, until 31 January 2019. Full brochures and Booking forms are available from Peter Crowfoot. The brochure can be viewed online by clicking here.
ITINERARY Accompanied by expert guides, the highlights of our tour will include: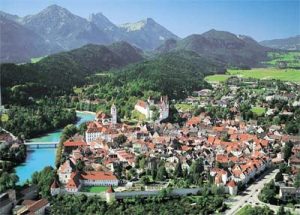 Residenz Munich, Germany's largest palace and an Aladdin's cave of treasures
The major art collections, from the Renaissance to the 20th C, in the Alte and Neue galleries and the Lenbachhaus
Beautiful Linderhof and Neuschwanstein Castles
Picturesque Füssen
Best category seats at the Oberammergau Passion Play
UNESCO listed Wies Church and the astonishing glass church of Herz Jesu
Nymphenburg Palace, the majestic Baroque summer home of the Bavarian monarchs
The programme is a full one and there will be quite a bit of walking. But there will also be free time and you can always duck out of any tour if you wish. The Oberammergau day will finish late in the evening but we have scheduled a free day afterwards to relax in Füssen.
HOTELS The Holiday Inn is within walking distance of the centre of Munich and the Luitpold is in the centre of Füssen. Both are well-reviewed 4 star hotels, each with its own restaurant, while there are also others nearby. The Luitpold has Wellness facilities with a range of spa treatments available. The hotels will be confirmed 12 months beforehand (just in case there are changes at the hotels meantime).
Single travellers may find they have either a single room or a double for single use.
MEALS Dinners in the hotel on the first evening in Munich and in Oberammergau are included. On the other evenings, you can dine where you wish. I can also arrange a group booking either at the hotel or a restaurant for anyone who wants to have dinner with others on those nights. Our guide will show us the best places for lunch.
WEATHER On average maximum temperatures in June in Munich are about 20C falling to about 10C at night. A mix of sun and rain can be expected, so bring a brolly. Averages are similar in Füssen and Oberammergau but the weather is less predictable and we could have warmer or cooler days.
PRICE  £1539 pp sharing. Single supplement £149. (Based on a minimum of 25 people.) We know this is more than recent tours. The main reasons are the high demand for tours with the Passion Play and the 20% fall in the value of sterling against the euro.
AIRPORT TRANSFER Nearer the time we will make separate arrangements for a reasonably priced coach transfer from Grayshott and Liphook to Heathrow and return.
HOW TO BOOK Please fill in the form in the Tailored Travel brochure and send it to Peter Crowfoot at the address on the front of the brochure or hand it in at the Visits Desk at a meeting. Please include payment for your initial deposit of £150 per person. You will need to pay a further deposit of £250 by 31 January 2019 and the balance 2 months before the tour.
You can pay by debit or credit card or by cheque. If by card, please fill in your card details on the booking form. Cheques must be payable to Tailored Travel, who operate the tour for us. They have many years' experience and we have used them before.
INSURANCE You must take out travel insurance but don't have to do so until after the end of January 2019. Then either arrange your own or take out one that will be offered by Tailored Travel for £44. (Ask me if you want to see their policy details.) Note that this is designed for people with no pre-existing medical conditions. When you have your own insurance you'll need to give details to Tailored Travel.