The Land of The Midnight Sun: Norway's Golden Age of Painting  by Stella Grace Lyons
Online Lecture
Why isn't Norwegian art better known? Should it be? The late 19th century marked a defining moment in Norway. For the first time romantic painters began to turn to their own land for inspiration.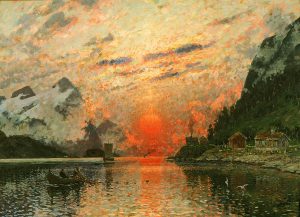 They painted the stormy seas, the towering glaciers and the raw, untamed nature of their homeland. Their aim? To draw attention to the beauty of their country and explore what it meant to be 'Norwegian'.
This talk looks at the artists from Norway's 'Golden Age' who captured the far north with drama and romance and interpreted their wild country as a mythical, eerie entity. It will explore the stunning works of JC Dahl, Peder Balke, Nikolai Astrup and Harald Sohlberg. This is chance to discover some of art's most under-appreciated artists!
Stella Grace Lyons.
Stella is an Art Historian who studied at Bristol University and Warwick University and  also in Venice and Florence where she focused on Renaissance and Venetian Art.
Stella lectures widely  in the UK and Europe for Societies and travel companies and runs her own courses in South Wales.  She offers an extensive range of  lecture titles, specialising in 19th -century painting.
Stella has written about art for several publications and her article on Norwegian Art was recently featured on the front cover of the Arts Society Magazine.
In addition to her lecturing work, Stella works as an artist's model for the artist Harry Holland.
'Without sacrificing scholarship, Stella Lyons has a most engaging way of hooking an audience into sharing her passionate interest in art history, drawing three dimensional human stories and experiences from the two-dimensional canvas' – Maev Kennedy, writer and Arts correspondent for the Guardian
This will be an ONLINE lecture and we will be using the Platform Zoom to broadcast it live into your home. We will send you instructions and a link  by e-mail a day or two beforehand so that you can easily view the lecture. There will also be a telephone number for you to call if you have any difficulty.