By John Iddon.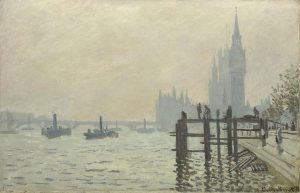 This is the story of the artists who fled to Britain to escape the war in France, including Monet, Tissot, Pissarro and their compatriots.  In the 1870s, France was devastated by the Franco-Prussian war and insurrection in Paris, driving artists to seek refuge across the Channel.  Their experiences in London and the friendships that developed influenced not only their own work but also contributed to the total British Art Scene.
John Iddon

John is a Lecturer and Guide at both Tate Britain and Tate Modern.  He ran an MA course in Heritage Interpretation at St Mary's University College.  He has also lectured freelance to numerous art societies, to the National Trust and the Peggy Guggenheim Gallery in Venice.  In 2012 he wrote the new guidebook to the newly opened Strawberry Hill.
The AGM will precede this lecture.